The ATSC 3.0 tuner is designed to enable broadcasters to provide TV services on all types of networks. 
After a year of crowdfunding and beta testing, SiliconDust's latest cord-cutting tuner is now available on Amazon. The HDHomeRun is the first home TV tuner to support ATSC 3.0 broadcasts and delivers full 4K resolution support. The Connect 4K is Silicon Dust's first device capable of streaming 4K resolution. It also boasts four built-in tuners: two for the latest ATSC 3.0 standard and the other pair for the older ATSC 1.0 format most of us are familiar with.
In this post, we'll examine the device itself and its specifications and look at what ATSC 3.0 is, where ATSC 3.0 is currently available, and what ATSC 3.0 means for cord-cutters.
What is ATSC 3.0?
The ATSC is the organization that created standards for digital TV broadcasts in the United States. The 1st ATSC standard i-e, ATSC 1.0, was launched more than two decades ago in 1996 and is still widely used in the US and in many different countries. Some people call these devices "ATSC tuners", but that's a bit misleading because there are also DTVs (digital terrestrial televisions) that operate according to other types of broadcasting standards like ATSC 8VSB or DVB-T2. In preparation for the 2018 Winter Olympics, South Korea was the first country to adopt the latest ATSC 3.0 standard.
With the release of ATSC 3.0, now there are two modes for receiving broadcast content – standard OTA (over the air) and the Internet. So it could be considered half-television and half-internet because this mode can utilize either signal to present television programming.
The newer ATSC 3.0 has significant improvements over the old-school ATSC 1.0 by utilizing the Internet to give users access to TV without a traditional antenna or satellite dish installation.
HD Homerun – Connect 4K and ATSC 3.0
| | | |
| --- | --- | --- |
| Tuner | Antenna | Cable |
| Tuner 0 | ATSC3 or 8VSB | QAM256/64 |
| Tuner 1 | ATSC3 or 8VSB | QAM256/64 |
| Tuner 2 | 8VSB (ATSC1) | QAM256/64 |
| Tuner 3 | 8VSB (ATSC1) | QAM256/64 |
As you can see, each of the four tuners can support our current ATSC 1.0 standard, while the two are also able to support our new ATSC 3.0 standard.
This means that no matter what happens over the next few years, the CONNECT 4K will remain reliable for both standards until at least 2023 – making it a solid investment now, and for the future.
Why is the HDHomeRun CONNECT 4K as special as a true ATSC 3.0 tuner?
There is a solid reason behind this; until now, it is observed that people would spend over $1,000 for a single tuner ATSC 3.0 USB dongle when they could buy an HDHomeRun CONNECT 4K instead, which is just under $200.
Why should you buy the HDHomeRun Connect 4K?
Forget about your monthly cable bill when you purchase this device.
You'll be able to watch free over-the-air TV on up to 4 devices at once, and it works seamlessly with other HDHomeRun devices and software.
You'll also be able to watch shows or movies in 1080p and 4K HDR resolutions (according to the availability).
Streaming to DLNA compatible devices over your network is easy with plug-and-play technology.
This device is compatible with all popular devices and platforms, so there are no worries about compatibility.
Supported Platforms
Below are the operating systems & platforms that will easily support by HDHomerun CONNECT 4K
Apple Mac
Windows 10
Tablets and Android phones with HEVC support
Xbox One
Android TV televisions and Android TV devices with HEVC support
iPad and iPhone (64-bit models)
FireTV edition televisions and FireTV products with HEVC support
Advantages of ATSC 3.0
By combining the signals emitted by OTA televisions and broadband Internet, ATSC 3.0 will bring improved reception to our televisions. This includes:
Support for mobile streaming/viewing
ATSC 3.0 is the latest-generation standard that allows you to stream videos on a cell phone (tablets and smartphones) and in vehicles equipped with TV receivers/tuners.
Ultra High Definition (UHD)
The ATSC 1.0 standard supports 1080p, but most OTA broadcasts only go up to 720p. ATSC 3.0, on the other hand, offers 4K UHD as the new standard while also including various picture quality upgrades like WCG, HDR, & higher FPS.
Better Audio Quality
ATSC 3.0 supports a newer version of Dolby AC-3 audio, letting you experience 7.1.4 l audio that also supports newer surround formats like Dolby Atmos and DTS: X.
Geo-targeting and personalization
With ATSC 3.0, broadcasters can use internet signals to gather more information on viewers, like better geographical location and viewing history, to send out broadcasts of more personally relevant content. (1)
How Do ATSC 3.0 "Stacks Up"?
ATSC 1.0/2.0 Protocol Stack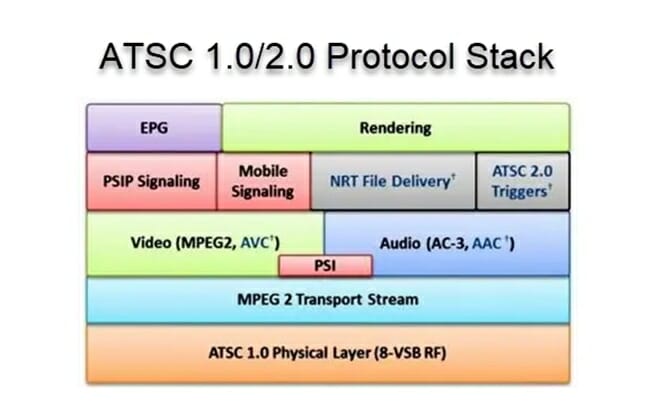 ATSC 2.0 was intended to make future improvements on the ATSC 1.0 standard, which is still in use today. However, it never made it past the planning stages because improvements in technology outstripped it. It will be more accurate to say that everything we enjoy about current HD broadcasts was made possible by the transition to digital broadcasting imposed by the FCC in 2009. With a resolution of up to 1920 x 1080 pixels and 5.1 Dolby surround sound, 6 sub-channels per channel (x1.1, x2.2), and channel bonding for virtual channels (x3, x4, etc.), broadcasters were able to offer improved services without adding additional bandwidth requirements for viewers.
Below is an image of the complete ATSC 1.0/2.0 protocol stack-in blue are additions that ATSC 2.0 incorporates.
However, because of the high-resolution codec required for Ultra High Definition 4K content, it was still limited to stream such media files smoothly without buffering or other hiccups in transmission.
You can see that ATSC 1.0 and ATSC 2.0 share the same Physical Layer and Transport layer standards and that ATSC 2.0 improved on those standards by adding additional audio and rendering capabilities. However, it didn't support a Full 4K UHD transmission, which is why it ultimately failed to gain traction after newer technologies came out over the years. (2)
ATSC 3.0 Protocol Stack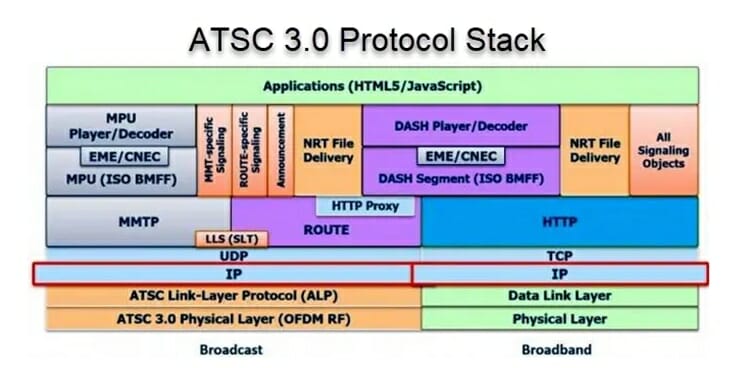 The new ATSC 3.0 standard will allow broadcasters to send higher-resolution content to your TV set or mobile device more efficiently.
ATSC 3.0 will remove some of the limitations and bandwidth caps of the current broadcast protocol by using an IP-based solution to deliver high-quality, high-bandwidth content.
What does this mean?
It means that it's actually the same transport stream used by online streaming giants such as Netflix and Amazon. Their use of this stream has significantly changed the way we consume content—no longer are we constrained to watching television shows and movies on our TVs. Nowadays, we can watch TV shows and movies in various ways, using various types of technology—on our televisions, computers, tablets, smartphones, and even in our cars and other devices. This is why the ATSC created ATSC 3.0, a new version of its broadcast transmission standard that involves an Internet protocol (IP)-based system for transmitting content over the airwaves.
This new technology will change the way we receive broadcast content and allow us to get it on all kinds of devices.
Does ATSC 3.0 stack up well against IP? Let's see.
Because of the technology and terminology used in each layer, the ATSC Digital Broadcast standard is separated into two data link layers: a Physical Layer using Orthogonal Frequency Division Multiplexing (OFDM RF) transmission, and a Link Layer using an Appendicular Transmission Standard Committee (ATSC) Link-Layer (ALP) protocol.
Of course, even when we look past the IP layer, things get more complex.
What will the ATSC 3.0 mean for Cord Cutters?
In this section, we will talk about the most significant effect cord-cutting has had on us.
Better Picture Quality
A new type of broadcast TV will send high-definition programs and video games with immersive picture quality at 120 frames a second and higher resolution than 4K. The technology is called ATSC 3.0, though old TV sets aren't expected to support it for several years.
To broadcast in 4K, ATSC 3.0 will use the new H.265 codec, which provides better quality and performance for various situations such as inside or outside broadcasts.
Improved Audio Quality
The exciting thing about ATSC 3.0 is the immersive audio it will deliver. The next-gen TV standard will be able to scale up to 7.1.4 configurations without losing audio quality. ATSC 3.0 will shift to the new AC-4 Audio Format for all Digital Broadcasts.
Mobile Viewing
ATSC 3.0 is kind of like WiFi for mobile devices. It's a new broadcast standard that will deliver content directly to your phone over the air. However, you'll need an ATSC 3.0 tuner in your device (which may not be available this year or even next) to receive the signal. 5G also promises to deliver 4K content directly to your phone, an exciting prospect, but we won't have a 5G broadcast standard until 2019. It won't have an ATSC 3.0 tuner, so there is a possibility that many consumers will have ATSC 3.0 tuners by then but won't have 5G phones/tablets/vehicles yet, so…it can be confusing!
Currently, Where is ATSC 3.0 Available?
ATSC 3.0 is the newest way that TV stations will broadcast digital content. ATSC 1.0 is the current standard, and many markets have already begun to switch over to ATSC 3.0. The FCC requires that TV stations continue to use ATSC 1.0 until 2023, but more and more broadcasters are announcing that they will begin broadcasting in ATSC 3.0 much sooner than that.
This map shows all of the First Markets across the United States: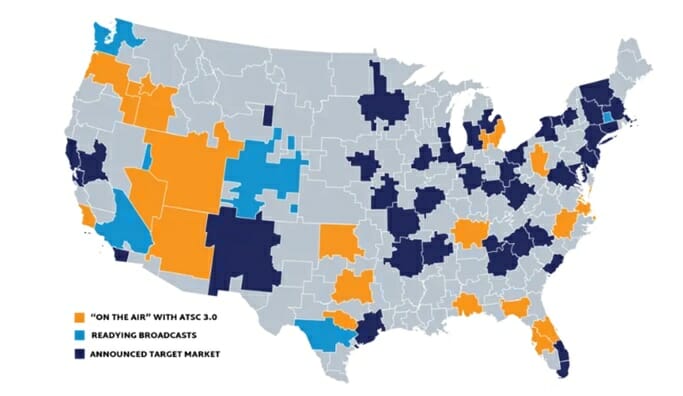 Orange represents the markets where at least one station broadcasts ATSC 3.0 content. In comparison, light blue represents markets where at least one station has submitted its application to broadcast in ATSC 3.0 and is now preparing to launch services.
Here, we explain what ATSC 3.0 is and why it is essential for broadcasters.
Will the Current Antenna Work with the ATSC 3.0
Will my old TV antenna still work after this update? Yes, it will.
When the new ATSC 3.0 standard is introduced, you will have five years to receive OTA stations using ATSC 1.0 before you can no longer receive these stations. However, if you have an older TV antenna, it may not be able to receive digital signals from the TV station, and you may need to upgrade your antenna before the full roll-out occurs.
You have a few more years to enjoy broadcast television before upgrading to an ATSC 1.0-compatible TV.
With that being said, it is pointless to continue subscribing to cable or satellite when you can simply cut the cord here and now. By doing so, you could save thousands of dollars – all without missing out on any action!
If you're thinking about investing in an antenna for your TV set, we've got 3 tips for you:
This multi-directional, amplified rooftop antenna includes stainless steel mounting hardware, 82 inches of cable and a 20-inch mounting pole. It receives VHF and UHF signals within a range of up to 70 miles that delivers quality digital and high-definition TV video for free
The CM-4228HD offers significant gain, excellent reception and a sleek design. It assembles quickly and easily in 4 sections. Recommended for viewers of short to moderate range from TV broadcast towers, who experience a periodic signal loss due to terrain obstructions or living at close-in distances.
The ClearStream 4MAX Indoor/Outdoor HDTV Antenna with mount is designed to receive TV broadcasts including 4K and 1080 HDTV and programs in UHF and VHF. This antenna utilizes an advanced compact multi-directional design that receives TV signals from any direction, eliminating the constant need for readjustment to ensure you always have the best view of your favorite shows. You may check the full review here.
These antennas can grab up current and future over-the-air digital signals.
Will the Current Tuner Hardware be Compatible with the ATSC 3.0?
Unfortunately, the correct answer will not exactly be 'yes'. ATSC 3.0 might not be fully well-matched with ATSC 1.0 tuners, not until any further supplementary notice.
So, if you have recently purchased a tuner for your television, you can continue to use it for at least three to five years after broadcasters are no longer legally required to broadcast using the ATSC 1.0 Protocol.
What to Expect with ATSC 3.0 in the Future?
Research and development of ATSC 3.0 standards are ongoing as broadcasters prepare for the upcoming transition to the new standard. Test results should be available by mid-2020, so commercial roll-out will probably begin in late 2020 or early 2021. The transition to ATSC 3.0 will likely be gradual, taking several years to become widely adopted.
So, it's essential to know that your antenna and tuner can be used to watch television.
The ATSC 3.0 will be Generating a lot of Hype but there will be Little Consumer Adaption in 2021
It will be several more years before broadcasters are ready for Next-Gen TV as they continue to develop infrastructure and experiment with content. One way to get a glimpse of the future is by upgrading your TV set to a version 3.0 tuner, available from Sony and Samsung.
ATSC 3.0 Broadcast TV Will Work as a Two-Way Information
When the government allows the implementation of next-generation television, televisions will know what you're watching. Broadcasters will soon have the ability to show customized messages on your television in commercials and other content according to your income level, gender, and race. Although TVs are new to the Internet, more security is needed to control content. In the future, more and more people will have access to internet-ready TVs. It's a good thing that TVs are switching to High Definition, but what about the risks? Content will be pirated, and relayed signals can be intercepted. More ways to encrypt broadcast signals, as well as other security measures, are needed to keep users safe and legal.
No one knows yet how this new technology will affect television viewing habits!
Wrapping Up
The new standard will provide broadcasters and service providers with increased bandwidth and security, allowing for better picture and sound quality, higher-resolution video content, more channels, advanced emergency alerts, and other services that will enrich the viewer experience. For consumers, the significant changes will be the number of channels they can receive, quality, and interactive elements that go beyond their current television experience. The change to ATSC 3.0 will not require additional equipment or programming changes to receive the additional services or signals. The transition to ATSC 3.0 requires this tuner hardware to decode ATSC 3.0 signals. (3)
You may check other learning and product guides below. That's all for now. Thanks for the reading!





References
(1) internet signals – https://www.businessinsider.com/how-to-boost-wifi-signal
(2) newer technologies – https://www.economist.com/the-world-ahead/2021/11/08/what-next-22-emerging-technologies-to-watch-in-2022
(3) programming – https://www.khanacademy.org/computing/computer-programming
We are sorry that this post was not useful for you!
Let us improve this post!
Tell us how we can improve this post?