When installing HDTV transmissions, it's essential to consider signal loss as it uses high-frequency signals. Thus, it's best to purchase cables that provide the best fittings to reduce noise and provide excellent picture quality. For this situation the RG6 cable has proven reliable and consistent, providing further interference protection over extended distances.
However, there are various RG6 coaxial cable types, and choosing the best one is difficult. So, read on and let me show you the best RG6 coaxial cables available in the market today and help you choose the one that fits your needs.
Quick Summary: 
Use RG6 cables if:
You want the best quality coaxial cable connector for your TV
You aim for a cost-effective cable
You like heavy AWG
You want thicker insulation and better shielding
Don't use RG6 cables if:
You want longer cables
You like lighter AWG
What is an RG6 Coaxial Cable 
RG6 cables are the ideal form of coaxial wires for your televisions, regardless of brand and other physical qualities. It's the most popular and commonly utilized RG cable on the market. RG6 coaxial cables are less expensive than RG-11 coaxial cables, which can also be used with televisions at home. RG-6 is heavier than its predecessor, RG-59, designed for high-bandwidth, high-frequency applications.
In addition, when compared to older coax variants, RG6 cables are more resistant to signal leakage and interference. They may also thrive in a variety of conditions without losing their toughness. With that, I highly recommend RG6 cables if you want to utilize them in various places, such as through corners, underground, and behind walls.

Quick Summary: 5 Best RG6 Cable
Our editors go through and research, test, and qualify our recommended products. We receive commissions on purchases from certain links.
We gathered information and examined different RG6 coaxial cable types based on different categories. As a result, we determined the top 5 RG6 cables for you:
Our Pick
Brand: Mediabridge
Connector Type: F-pin to F-pin
Cable Type: Coaxial
Compatibility: Modem
Color: Black
Length: 50 Feet
Highlights
This RG6 coax cable features triple shielding and a solid copper core conductor, making it an excellent RG6 cable for indoor and outdoor applications. It has a UV-protected PVC jacket that can withstand frigid temperatures. Also, this cable has three layers of insulation, including two aluminum foil shield layers and a braided aluminum shield, to provide further protection against electromagnetic interference, which can degrade signal quality.
Moreover, this ultra-series coax has a dual-tab design and includes an adjustable and reusable Velcro cable strap which helps organize the cable. It also comes with EZ grip caps making it simple to install, removing the need for pliers. This cable is suitable for in-wall installations and changing climates because it is UL and CL2 rated. Lastly, it's suitable for satellite or cable TV connection, thanks to its R6 classification.
What We Liked
Its jacket is UV-protected, and it has three layers of shielding
It is UL, and CL2 rated for in-wall installations
It reduces signal loss through its nickel-plated F-type connectors
It has a travel-friendly dual-tab design
It comes with EZ Grip Caps for easy installation
What We Didn't Like
The cable's length isn't as long as expected
Highlights
This quad shielded RG6 cable comes in a set of three coax cords that can be used for three different home devices, making it a cost-effective option. It ensures that you have a backup cable if one is destroyed or misplaced. This cable is suitable for domestic use due to its UV-resistant and CL2-rated PVC jacket. Aside from that, it includes four layers of shielding, including aluminum foil and braided layers, that protect over 90% of your connections from electromagnetic interference. With that, your cable will perform better and last longer.
With its low-profile compression housing, you can install this cable easily. It doesn't have grip caps and doesn't look as nice as other wires, but it fits perfectly. It's as simple as aligning the ports with the connectors and twisting the latter to lock them in place. Also, through its thick copper conductor, you'll be getting better sound and picture quality.
What We Liked
In one package, there are three cables
It's simple to put together, and it fits snuggly
Its wire jacket has a long-life span
Performance and resilience to EM noise have been improved
Conductors are thicker (18AWG) for better sound and image quality
What We Didn't Like
The cable is a bit stiff, making it tough to move a wall-mounted TV
Highlights
You must eliminate outside interference if you want your 4K TV to receive the best signal possible. Thanks to its quad shielding, this digital coaxial cable connector features some of the most thorough electromagnetic interference protection available. It also includes aluminum foil and braid shielding in its four insulating layers to deflect electromagnetic interference and radio waves. With the combination of aluminum and braid shield, noise and crosstalk between and among circuits are reduced.
Moreover, it's less prone to corrosion and assures optimal signal transmission. This RG6 cable contains oxygen-free and solid copper conductors for superior signal transmission. It also has nickel-plated connectors to secure the cable and connections. This cable has a high-quality PVC outer coating allowing it to be used indoors and outdoors. A strengthened cap keeps the wire from detaching from the coaxial cable connector even when stressed.
What We Liked
It uses superior-grade PVC jackets
It has four layers of shielding that protect noise and crosstalk
Its conductors are oxygen-free for improved communications and conductivity
It is weatherproof
What We Didn't Like
The conductor pins may be bent when it arrives
Highlights
If you're seeking a high-quality long cable, this digital coaxial cable might be what you're looking for. This cable is 50 feet long and can be routed through any corner of your home, and it fits for indoor and outdoor use. Also, it uses SignalTight Technology which incorporates a membrane that maintains electrical continuity between the nut and the post. It is crucial since data transmission consistency is a consideration for coax lines. Even while watching live telecasts, you can receive clear signals with this.
Moreover, this cable is well-known for its strength and conductivity. It has 100% nickel-plated brass connections in addition to its new white PVC jacket. This cable is tough and strong enough to sustain heavy use. Despite the stretching and stress on the coax line, the signals remain stable. As a result, you'll be comfortable using this connection in various applications.
What We Liked
A high-quality 50-feet cable
It uses SignalTight Technology for signal continuity
Its connectors are 100% nickel-plated brass for improved conductivity
Its coax jacket has constant signals and durability
Its compatibility with various devices is guaranteed
What We Didn't Like
This item is UL/ETL certified but not CL2 or CL3 certified, which poses a fire risk
Highlights
This 4-layered shielding coax cable is an ideal choice if you're aiming for a durable cable that could last longer. It provides a durability advantage because its strain-relief boots are molded just behind the two connectors. These components are critical for maintaining the cable's optimal condition, even when bent and stretched. Also, this cable has gold-plated connectors. Gold is a naturally corrosion-resistant metal that lasts longer than other metals. It also aids in retaining the conductivity of your coax ports, resulting in improved signal transmission.
Aside from being remarkably durable, this RG6 cable also performs well in EM and RF interference mitigation. This device is suited for high-frequency setups. This cable can decrease signal losses better than a 50-ohm cable because of its 75-ohm impedance. Also, 75-ohm systems are superior signal boosters for house setups that use RG6 coaxial wire.
What We Liked
It has 4-layer shielding for a more substantial anti-interference barrier
Its impedance of 75 ohms is industry standard for better signals
It has molded strain-relief boots that are built to last
Its connectors are gold-plated for improved performance and resistance to chemicals
What We Didn't Like
Connectors may be a little sloppy

Important Considerations when Buying RG6 Cables 
When your TV is sensitive to interference and fluctuating signals, picking the suitable coaxial cable is critical. So, there are several significant elements to consider. To help you choose the best RG6 coaxial cable, we recommend considering the following:
Connector Type
F-Type connectors are the most common RG6 coaxial cable connector types. They are used to link satellite TV, cable TV, and digital TV using RG6 cables. It has two types, which are twist-on and crimp. Twist-on connectors do not provide the same level of connection quality as crimp connectors. (1)
Cable's Construction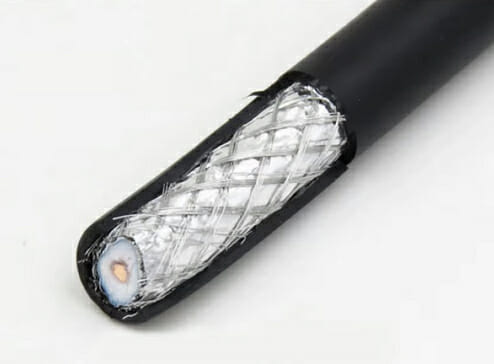 Coaxial cables have three main components:
Conductor. It's made of solid copper or copper-clad steel and is positioned in the middle of the cable. It transports the signal from the source to your television. Although solid copper wire has the best conductivity, it is stiffer and more challenging to work with. Copper-clad steel does not hold a signal as well as stainless steel, but it is more flexible and easier to handle.
Insulation and Shielding. A foil cover and copper braiding surrounding the conductor provide insulation. These materials are essential to your cable because they inhibit electromagnetic interference and radio waves, resulting in signal loss. The further a line can travel without losing signal, the better the shield.
PVC Jacket. This final layer on a coaxial cable protects the cable from water and dirt and allows it to be used outside.
Frequency and Transmission 
RG6 cables have operating frequencies that minimize signal loss. The shorter the wavelength of a signal, the more probable it is to pass past the shields of the cable. The operating frequency of most coaxial cables is between 600 and 2,000 megahertz (MHz). Higher-quality R6 cable with more insulation runs near 600 MHz. On the other hand, lower-quality R59 cable with less insulation operates near 2,000 MHz. Thus, RG6 cables have better performance in the long run than R59 cables.
CL and Power Ratings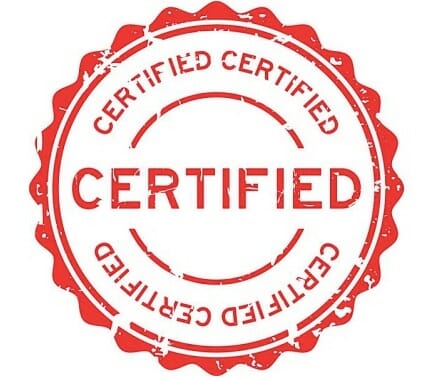 The CL rating of a coaxial cable defines what devices it may securely connect. While coax cables may not provide the same fire risk as power wires on your television, evaluating their CL ratings is vital. CL2 or CL3 is the most common rating for coaxial cables. CL2 cables can sustain power surges up to 150 volts without melting or shorting, making them ideal for installation inside walls. CL3 is similar to CL2, except it can withstand surges of up to 300 volts. (2)
Attenuation
Attenuation is generated by various natural elements, such as resistance and dielectric loss that are inherent in your coaxial cable's materials. The longer the coaxial cable, the higher the loss as the signal loses intensity when it travels further. Hence, the attenuation of a 10-foot RG6 cable is lower than a 50-foot RG6 coaxial cable. Moreover, frequency is another component that influences attenuation. Signal attenuation increases as the frequency of the coaxial cable increases. That's why RG59, which works at around 2,000 MHz, has lower quality than RG6, which operates at 600 MHz.
Application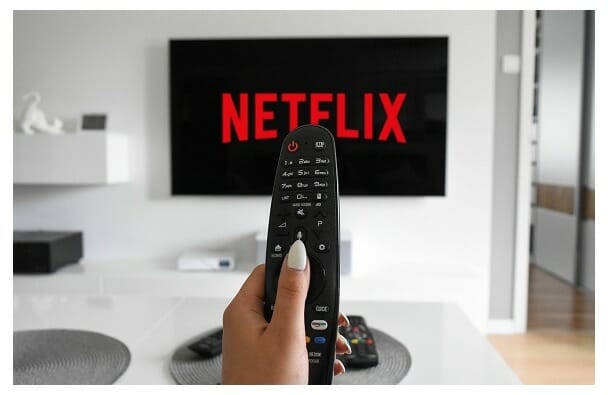 An external television antenna can be connected to the television using a coaxial wire. It also links a modem to a cable connection, allowing users to stream content from the web to a TV screen, such as Netflix. A coaxial cable can be run through a home's walls to enable cable and antenna connections in various rooms. 
Cable Splitter
A coax cable splitter divides a single cable line into two independent lines. A coaxial cable input connects a coaxial cable from a signal source, such as an antenna, satellite, or cable TV line, to one side of a tiny box. The box's other side has two or more cable outputs that transfer the signal to numerous devices like a TV or modem. (2)
You may want to check some other learning and product guides below.



References
(1) satellite – https://www.britannica.com/science/satellite
(2) Power Ratings – https://www.sciencedirect.com/topics/engineering/power-rating
(3) modem – https://www.computerhope.com/jargon/m/modem.htm
Our Recommendation Again
Sale
We are sorry that this post was not useful for you!
Let us improve this post!
Tell us how we can improve this post?