If you enjoy ABC shows, you may find it difficult to give up your cable. After all, cable has been the preferred means of watching your favorite network television shows. But the good news is you can now watch ABC live streams without paying for a cable subscription. Thanks to various live TV streaming options or the over-the-air antenna!
ABC is one of the most well-known TV networks, and getting it without cable is relatively simple.
Different Methods to Watch Abc Without Cable
As I have mentioned, you can watch ABC online and without cable in two ways. The first is to watch it for free over the airwaves with a good TV antenna. The second option is legal online ABC streaming services such as DirecTV Stream, Hulu + Live TV, FuboTV, and Youtube TV.
Most live streaming services, but not all, provide access to all major networks, and some cover most markets. You'll have all the information to choose the streaming service that best suits your needs if you know which networks you enjoy watching.
Here are the details about the ways to watch ABC online and without cable.
1. Free Over-the-Air Antenna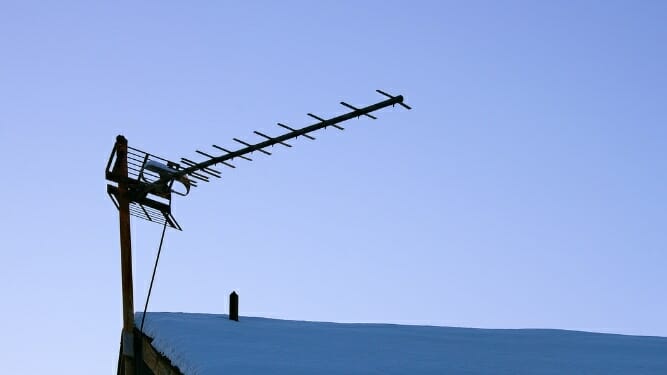 If you live in a city or the suburbs, you can watch ABC over the air with a $25 Flat TV antenna. They are completely risk-free, thanks to their free return policy. You could return it for a refund if it doesn't receive the channels you want. It is the most cost-effective way to watch everything from NFL games to local news broadcasts.
Most areas in the United States provide free over-the-air access to 50 to 100 TV networks. Just set up an over-the-air TV antenna to access these stations (or just a TV antenna). In the United States, over-the-air TV signals are compressed less than HD cable and satellite broadcasts, resulting in better or at least comparable picture quality.
Moreover, your free over-the-air TV options may include all four major networks (CBS, Fox, ABC, and NBC), PBS, Spanish-language stations such as Telemundo and Univision, and much more, depending on where you live. (1)
Pros:
Local channels are available for free
It is cost-effective. 
Cons: 
There are no basic cable or premium channels available
The antenna might not work in your location, especially in rural areas.
There's a chance you'll get some extra channels you don't like and didn't expect
2. DIRECTV STREAM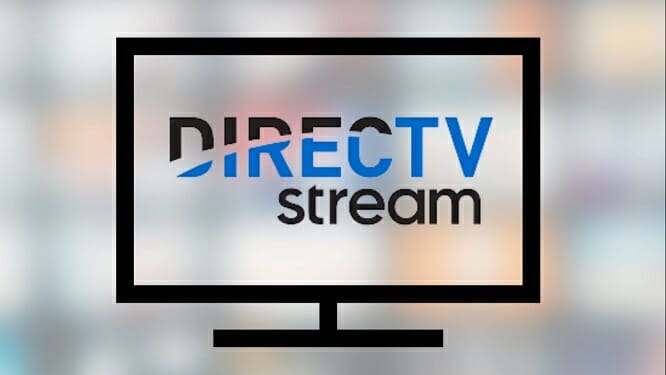 It is a live TV streaming service that feels like a cable or satellite service. Despite its high price, DirecTV Stream is a viable alternative to cable for watching ABC live streams. Even at its most basic subscription tier, it's still less expensive than traditional cable TV and has a decent feature set and channel lineup.
The DIRECTV STREAM channel lineup is impressive, and it's almost cable-like in size. In addition to ABC, you'll have access to FOX, NBC, CBS, ESPN, Fox News, Fox Sports, HGTV, CNN, Food Network, TNT, and a slew of other popular channels. DIRECTV STREAM's resemblance to traditional cable and satellite options sets it apart. DIRECTV has a lot of channels, has optional contracts, and will even have a deal with AT&T Internet.
Pros:
Hundreds of channels to choose from
Regional sports networks provide excellent coverage
The user interface is simple and cable-like
Cons: 
Comprehensive television coverage isn't cheap
Longer lag times and slower loading times than its competitors
It doesn't have any content discovery features
Pricing and Package
| | |
| --- | --- |
|  Entertainment (The Essentials)   | $69.99/ month 20 hours of DVR space  65+ channels, three simultaneous streams  Includes premium channels such as Starz and Showtime |
| Choice (Must-Have Sports) | $84.99/ month Regional sports networks  90+ channels and includes HBO Max  3 simultaneous streams  |
| Ultimate (Sports, News, Movies) | $94.99/ month Regional sports networks 130+ channels and includes HBO Max  3 simultaneous streams  |
| Premier (Maximum TV)  | $139.99/ month Regional sports networks  140+ channels and includes HBO Max  All you can watch  |
3. Hulu + Live TV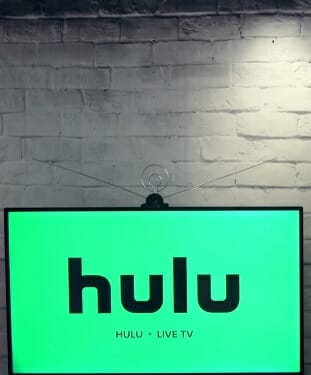 Hulu + Live TV is ideal for entertainment fans to cut the cord, thanks to its extensive on-demand library and diverse channel lineup. This service combines Hulu on-demand (including all of the great Hulu originals) with a selection of live TV networks. Also, it is available throughout the United States. However, it would be best if you kept an eye on Hulu's website for the most up-to-date channels in your area.
Furthermore, a live stream of the local ABC affiliate is available as part of their service (in most markets). You can watch the most recent news on ABC News Live, MSNBC, FOX News, and CNN. You can watch blockbuster hits and classic TV shows on Disney Channel, FX, FXM, Lifetime Movies, TCM, and other networks. In addition, BTN, ESPN, FOX Sports 1 and 2, and NBSCN all have a lot of sports programming.
Pros:
One of the most cost-efficient ways to watch live TV in its entirety
Hulu's on-demand streaming service, which includes original series, is included
Live TV streaming that is smooth, fast, and dependable
Cons: 
Add-ons are limited
Controls for live TV that aren't exactly intuitive
You must pay additional money to be able to skip commercials and ads
Pricing and Package
| | |
| --- | --- |
| Hulu + Live TV (No Hassle TV)  | $69.99/ month Includes Disney+ and ESPN+ 2 simultaneous streams  |
4. FuboTV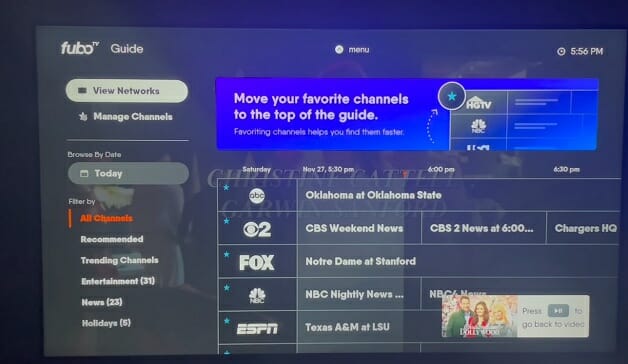 This simple live TV streaming service has a lot to offer, including a live stream of ABC. With this, you can watch local news and another regional programming. FuboTV currently broadcasts ABC in 184 of the 210 television markets in the United States. FuboTV covers the larger TV markets and streams ABC to 97 percent of American households live.
Apart from ABC, fuboTV offers the majority of the major local networks. In some markets, you can watch local sports broadcasts. Aside from that, fuboTV provides access to several major sports networks, including beIN Sports, Big Ten Network, ESPN, FOX Sports 1 and 2, and NFL Network, to name a few.
It also doesn't lack other television categories, with ABC News Live, FOX Business, Local Now, and NBC News Now offering live news streaming. AMC, Bravo, Disney Channel, FX, HGTV, Nickelodeon, and VH1 are a few major entertainment and lifestyle channels available.
Pros:
Lots of channels to choose from
Broadcasts several sporting events live
There are various in-depth and niche options for sports fans, such as foreign soccer leagues, cycling, etc. (2)
Support for 4K
Cons: 
CNN, TBS, and TNT are among the Turner-owned networks that aren't available
It has become expensive, like many of its competitors.
Pricing and Package 
| | |
| --- | --- |
| Starter (7-day free trial)   | $64.99/ month 250 hours of DVR space, 100+ channels, three simultaneous streams |
| Pro (7-day free trial) | $69.99/ month 1,000 hours of DVR space, 100+ channels, ten simultaneous streams |
| Elite (7-day free trial) | $79.99/ month 1,000 hours of DVR space  159 channels (40+ more channels with Fubo extra) 10 simultaneous streams  |
|  Latino Quarterly (Pre-paid Quarterly)  | $33.00/ month 250 hours of DVR space, 33 channels, three simultaneous streams  CONMEBOL qualifiers  |
5. Youtube TV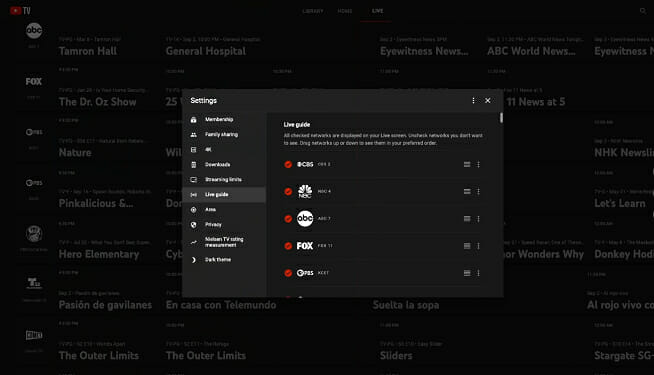 YouTube TV is Google's entry into the internet TV wars. It's cheap, has many features, and has a good channel selection. Google is known for its futuristic ideas, so it's no surprise it's entering the live TV streaming market.
YouTube TV is sleek and functional, with a channel lineup that includes significant networks and local streams, such as ABC. Out of all the streaming services, it does the best job of providing you with your local network affiliate stations.
In all US markets, YouTube TV's streaming service includes live ABC. IN MOST US MARKETS, YouTube TV offers major local networks such as CBS, NBC, FOX, and ABC. It also has 85+ channels, allowing you to watch a wide range of programming from AMC, CNN, Comedy Central, ESPN, Food Network, FOX News, FOX Sports 1, NFL Network, Nickelodeon, and TNT.
Pros: 
It has a fantastic sports and news channel lineup
It has a limitless amount of cloud DVR storage
Can handle up to six user accounts and three streams running at the same time
Cons:
The monthly fee has risen to $65 from $35 previously
Many regional sports networks aren't available
Due to a contract dispute, Roku users are experiencing issues with YouTube TV
Pricing and Package 
| | |
| --- | --- |
| Youtube TV Subscription Plan (14-day free trial) | $64.99/ month Unlimited hours of DVR space three simultaneous streams, 107 channels  |
FAQs
Can I watch ABC on Fire TV, Roku, Chromecast, or Apple TV?
You certainly can! You'll need one of those ABC streaming services or a smart TV. These streaming services understand that their customers prefer to watch on popular streaming devices, so they've cultivated excellent and broad platform support.
For smart TV, I recommend using a product from a reputable brand that runs an easy-to-use streaming platform with an excellent operating system for TVs, such as Roku, Fire TV, tvOS (Apple TV), or Android TV (many smart TVs).
Can I use those streaming services as my pay-TV provider credentials for the ABC Go app? 
The ABC Go app offers Hulu, YouTube TV, FuboTV, and DIRECTV STREAM. Please remember that the ABC GO App will only broadcast live in participating markets.
On various devices, you can download the ABC GO app to watch live and On-Demand ABC, as well as current episodes of ABC shows. A "lock" symbol indicates an episode that requires you to link your participating TV account. On the other hand, locked episodes for most shows will become available to watch without logging into your participating TV provider account eight days after they first air on television.





References
(1) major networks – https://www.statista.com/statistics/530119/tv-networks-viewers-usa/
(2) soccer leagues – https://www.britannica.com/topic/Major-League-Soccer
We are sorry that this post was not useful for you!
Let us improve this post!
Tell us how we can improve this post?