Discover Television Stations and Broadcast Towers near you. This guide will help you find digital television transmitters (DTVs) near your location.
Now that you've purchased a new antenna to watch free TV, it is important to install your antenna correctly to get the most channels. This article will take you through the following steps, connect your antenna to your TV located nearby broadcast towers, place your antenna in the best spot, and perform an auto program or channel scan on your TV.
How to Locate Nearby Broadcast Towers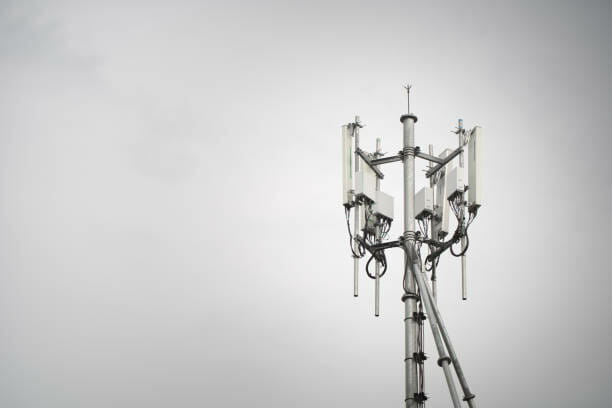 When you have finished connecting your antenna to your TV. The next step is to locate nearby broadcast towers, to make sure you have your antenna in the best spot to receive signals. You need to aim your antenna right to get the most channels and for this, you need to know where the TV broadcast towers are located in your area. There are two ways to help you locate the towers and determine how far they are from your home.
First let's use your cell phone/laptop for the free signal finder app, go to the app store or Google Play, and download the antenna signal finder app.
Launch the app and enter your location or select the current location and then select the broadcast networks you typically like to watch.
Next, you will see a map with your location, indicated by a blue dot. Holding the phone vertically in your hand slowly rotate your body in a circle.
A wiper that corresponds to the direction you are facing will sweep across the map. As the wiper floats over a green channel line the direction you are pointing at that moment is the direction of that particular broadcast tower.
Placing your antenna in a window, or near a wall in that direction will give you the best reception for that particular tower. The app also allows you to select non-network local channels and find their tower locations.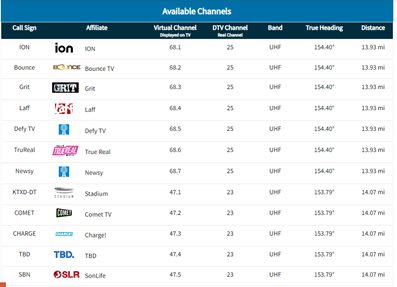 The other tool you can use to locate the direction and distance of broadcast towers is this transmitter locator tool for your antenna brand. This tool is probably the most common and familiar to cord-cutters who use an antenna.
When you type in your address make sure to check the mark that says "shows radius" and "show lines".
After that, it will open a map & provide a list of stations (make sure to scroll down for the list) that you can likely pick up. This list is in order from strongest to weakest, ascending in the distance order. The upper channels are strong and would work with smaller antennas.
Let's look at the map now, once you type the address orange, yellow and red three circles will appear with your location mark in the center.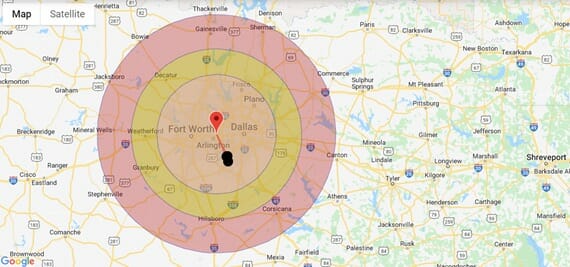 The orange circle shows a 35 Mile Radius: Those are strong signals, that would work with smaller or indoor antennas, and with outdoor antennas, they will provide the best results.
The yellow circle shows a 50 Mile Radius: Yellow signals are fair and may require a medium-sized antenna. You can get better results only if you have had correctly installed your outdoor antenna. You may click here to know how to install your tv outdoor antenna.
The red circle shows a 70 Mile Radius: The red signals are weak and will likely require a large antenna with a preamp, even then it's not for certain that you will get the desired results.
In order to locate nearby broadcast towers first, you need to understand which side of your home faces north. This is important in determining where to place your antenna.
Once on the Turk or RCA antennas website, select the antenna finder at the top of the page. Now choose the type of building material that matches your home, enter your address.
It's best to enter your whole address, not just a zip code, and click find. The site will show a map with the towers close to your home. The top of this map is always facing north. Once you understand what wall or corner of your TV room faces North, you'll be able to correlate what direction these towers are in a relationship. (1)
Using this information, you can determine where to put the antenna. For example, if the address (you have put in) has most of the towers to the southeast a window or wall on the southeast or southeast side of your home will offer the best signal reception.
How to Place Your Antenna In The Best Spot
Now that you have connected your antenna to your TV and have located nearby broadcast Towers. Next, you need to place your antenna in the best spot to receive as many channels as possible.
A couple of important things to remember, number one, always place the antenna on or near the window or wall that is facing the towers that broadcast the channels you watch most. Number two, antennas don't like steel and concrete. So place your antenna as high as possible. Placing your antenna higher will help you get the best reception.
Auto Program your TV
So far, you have connected your antenna to your TV located nearby broadcast towers, and you have positioned your antenna in the best spot so you can enjoy free HDTV. Next, you will need to perform an auto program or channel scan on your TV.
So let's start, turn your tv on, and have your remote in hand, using your remote navigate to the input or source setting and make sure you have antenna or TV selected.
Next, bring up the main menu or settings menu and navigate to where you can channel scan or auto program the TV using your antenna as your source.
Then select channel scan or auto program. Be patient, this process can take several minutes, after the channel scan or auto programming is finished. Use the guide (which automatically appears on your TV screen once the channel scan process is finished) to see your free HDTV channels. (2)
If you moved your antenna to a new location, use the same steps to perform another auto program or channel scan. If the channels you like most don't appear on your televisions guide, try a new antenna location and perform another channel scan or auto program.
Wrapping Up
There are so many different things to cover when it comes to TV towers and antennas. Because of that, we've broken this guide into several main steps that will walk you through the process from beginning to end. Hope you find it useful. Thank You for reading!





References
(1) zip code – https://www.britannica.com/topic/ZIP-Code
(2) programming – https://www.khanacademy.org/computing/computer-programming/programming/intro-to-programming/v/programming-intro
We are sorry that this post was not useful for you!
Let us improve this post!
Tell us how we can improve this post?