If you're looking to stream live TV or see your favorite shows when you miss them, you'll need a way to record them.
Sling claims to be the first app-based TV service that lets you stream live television and on-demand content over the internet. It also lets you record shows or movies using its Cloud-based DVR. Here's how to do it on your Sling TV.
Briefly, the steps to record on Sling TV are as follows:
Launch the Sling Cloud DVR app.
Go to the Guide menu.
Select the show to record.
Click on record.
Choose a recording option.
Check under Recordings on My TV.
Here are the steps to record shows on Sling TV in more detail, with images to guide you:
Step 1: Launch Sling Cloud DVR
First, launch the SLING CLOUD DVR on whichever device you have the Sling app installed and sign in to your account.
Step 2: Go to the Guide Menu
Navigate to the GUIDE section from the main menu at the top of your screen. It's the third from the left after the Sling logo.

Navigate to the Guide section
Step 3: Select the Show to Record
In the GUIDE menu, select the show that you want to record. When you click on it, you will be presented with the information page for that show with the option to record.
Step 4: Click on Record
If you have selected the show to record, click the RECORD button next to 'Watch Live' in the bottom left of your screen.

Click on 'Record'
Step 5: Choose a Recording Option
When you click on RECORD, you will be presented with recording options on the same information page. You can either record all episodes, record only new episodes, record the current episode, or cancel the request to record. Choose one of these options.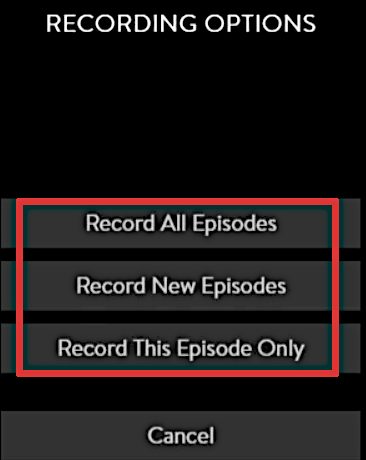 Select a recording option
If a recording is in progress, you will have the option to stop it if you want to do that. It will ask you to confirm your stop request.
Step 6: Check under Recordings
Once recorded, you will find the recorded show by clicking on RECORDINGS under the main MY TV menu. That is, navigate to My TV > Recordings.

Navigate to the My TV menu
Your recordings will appear under the RECORDINGS heading after 'My Channel':

Look under the Recordings menu
Once recorded, you can watch the recording on any supported device at your convenience. The recording will be accessible as long as you remain subscribed to Sling's Cloud DVR service. You also have the option to delete a recording when viewing the list of recordings made on the Sling Cloud DVR.
FAQs About Sling TV
Is Sling TV available outside the United States?
Sling TV is currently unavailable outside the United States due to licensing issues.
What channels are available on Sling TV?
Almost all the popular channels in the USA are available.
Can you watch Sling TV on multiple devices?
Yes, it's possible, depending on the service you subscribe to.
Is Sling TV free?
Yes, Sling allows you to watch over 100 live channels for free, plus thousands of on-demand shows and movies. However, there are additional paid services for extra features.
Is Sling DVR free?
No, Sling DVR is only available when subscribing to one of Sling's paid services.
For more information about Sling TV, see their website at https://www.sling.com.
Take a look at some of our related articles below.
We are sorry that this post was not useful for you!
Let us improve this post!
Tell us how we can improve this post?